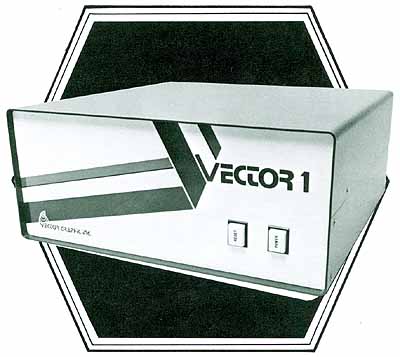 The VECTOR 1 is an exceptionally versatile general purpose byte-oriented digital computer. It is based on the 8080A Microprocessor and the common S-100 bus structure. The Intel 8080A provided with the VECTOR 1 has 78 basic machine language instructions and a minimum instruction cycle of two microseconds. There is room for up to 64K of directly addressable memory using a parallel 8 bit word!16 bit address and 256 separate input and output devices can be addressed.
DESIGN FEATURES
The VECTOR 1 incorporates improvements in mechanical, thermal, and electrical design compared to competitive computers. A mechanically rigid heavy .093" gauge cabinet retains its structural integrity even with the cover removed. A low noise level fan is standard, and cross ventilation uniformly cools each circuit board. The power supply components transfer their heat directly to the case bottom for cool operation. A line filter is provided to prevent transients on the power line from causing memory errors, a common problem.
EASE OF CONSTRUCTION
The mechanical assembly of the case and card guides is simplified through the use of special fasteners and snap together components. No sheet metal screws are used. By providing a system monitor program on PROM, several advantages are achieved: Wiring cables and unreliable front panel circuitry are eliminated allowing the 8080A MPU to operate as it was intended. The computer can load cassette tapes or communicate with a terminal through an I/O board as soon as the power is turned on, eliminating tedious loading of bootstraps with front panel switches. Since all of the electronic circuitry is on plug-in boards, trouble shooting is simplified.
COMPATIBILITY
All of the current 8080A software is compatible with the VECTOR 1, with the exception of minor patches to the I/O routines, as are most boards for the S-100 bus.
Vector 1 Secifications
Number of boards
up to 18
Microprocessor
Technology
Data Word Size, Bits
Instruction Word Size, Bits
Clock Frequency
Add time, Register to Register
Microsec. per data word
Number of Instructions
I/O Word Size Bits
Number of I/O channels
Direct Memory access
Vectored interrupt (8 priority levels)
8080A
NMOS
8
8
2 Mhz

2
78
8
256
Optional
Std.
Software
Monitor or Executive
Resident Assembler
Higher-level language
System Monitor
ESP-1
Basic, in development