This web site is about old airplanes and flying them. It was started as an archive of the many Dispatch magazine articles that I had written over the years and has grown as other authors have asked to have their own articles included, and given permission to do so. I have also included some aircraft images, and some original operating manuals and other information, for your enjoyment and enlightenment. Nothing posted here may be used for any commercial purposes. Please respect my own and the other authors' and photographers' copyrights. If you would like to see more original WWII documents published, please let me know.
This site is NOT an official site for anyone except myself.
Last Updated on 29 December, 2012
For changes, see What's New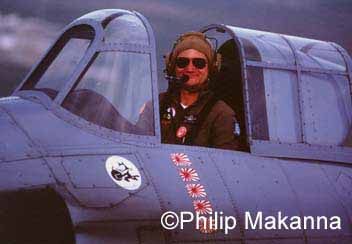 Yep, that's me (circa 1992). And it is air-to-air, boy is Phil good!
How can I find things on this site?
The major topics and sections are listed on the left of this home page, just click on a button. In addition, there are global navigation buttons at the top of each page, one of which is Contents, which is a complete table of contents of this web site. Another button is Search, which will search the entire site for a phrase and list all pages with that phrase.
Basically, I have not added anything significant to this site for the last eight or so years. It is stale and built with older web technology. In the new year, 2013, I plan to start a new site and will publish a link to it when it is done. I am still active with the Commemorative Air Force and the High Sky Wing in Midland, Texas, and continue to fly the aircraft assigned to the Wing. Randy
Comments?:
Email to Randy Wilson: avhistory@rwebs.net