Fokker Dr.I Triplane Replica
SOLD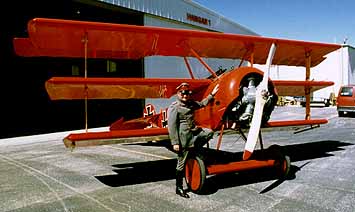 More Images of this Triplane
now including Streaming Video Clips!
Images taken 2 June, 2001 before the sale
I sold my Triplane and uniform to a good home back in late 2001. It is currently on display at the Cavanaugh Flight Museum in Addison, Tx. Here is a link with photos of the Triplane at the museum. Randy
My Triplane was built in 1980 by Ed Lansing and Gary Shepherd of Houston, TX, and the plane was featured in articles in the December 1980 and March 1983 editions of the EAA's Sport Aviation magazine. You can read Ed Lansing's description of the Triplane's flight characteristics here. Engine is a 165hp Warner and the plane is fitted with brakes and a steerable tailwheel for operation on paved surfaces. The Triplane is aerobatic, within the limits of the design, and I have performed low-level acro routines in it at air shows over the years. Total time airframe and engine since new, when sold, was 251 hours and the plane was recently given an extensive reconditioning.
I had owned and flown the Triplane since late 1984 but now live in West Texas, where the winds are usually too strong and gusty to enjoy the it, thus the reason for selling. Some other images of the plane can be found here. Randy