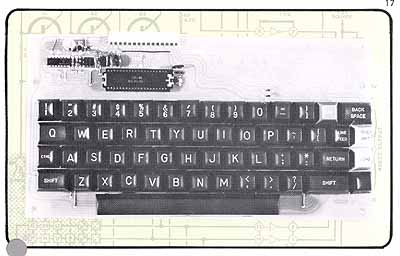 Keyboard and Encoder
| | |
| --- | --- |
| | Fully Professional System |
| | 56 Keys |
| | One chip ASCII encoder |
| | Automatic repeat |
The KBD-5 is the latest version of our popu­lar keyboard kit. It provides 56 keys with selectable upper and lower case, or TTY style outputs. The keyswitches are full typewriter travel, with super reliable crossbar action gold plated contacts. Keytops are double shot molded, so the markings can never wear off. All parts for the keyboard and encoder are mounted on an 11 5/8 x 6 1/8 epoxy-fiberglass circuit board. The spacebar is a full 6 inches long and fully pressure equalized.
Full complement of keys includes upper and lower case characters and numbers, brackets and parenthesis, two shift keys, carriage re­turn, line feed, escape, two typewriter type user defined keys and two push on/push off user defined keys for locked ON control functions such as "Echo" ON/OFF and "Receive -Transmit" ON/OFF on the CT-1024 terminal system. The encoder is capable of supplying 88 different ASCII characters and commands. The user defined keys on this keyboard may be very easily wired to provide any of the less common ASCII commands.
The keyboard also features a unique repeat circuit. If you hold any of the keys down for more than a second, that character will automatically repeat itself several times a second until the key is released. It even works when generating control functions which is almost impossible to do using a conventional keyboard with a separate repeat key.
The keyboard may be jumper programmed for upper case only operation as required by some systems. Parity selection if desired is fully jumper programmable as well. Connections are made to the keyboard thru a fifteen pin edge connector along the upper left edge of the board. Power requirements for the unit are +5 VDC @15 Ma. and -12 VDC @10 Ma.
| | |
| --- | --- |
| #KBD-5 Keyboard/Encoder Kit | $49.95 |